Testimonials
Testimonials
Dear Mr. Meachum,
I never expected anything as fine as that! It's the finest I've ever seen anywhere! I've never seen the flowers like that, they're simply beautiful. You had nothing in your book or on display so beautifully done. I suppose strangers might think me childish and silly to have "Daddy" on there, but I had always called him that right up to the last. I had lots of roses and took them out for Mother's Day. I enjoyed using the two vases. Cans and jars always blow over.
Sincerely,
Georgia Setty
Monday May 14, 1979
p.s. I had qualms about putting so much on the stone but you did it all beautifully. That dark granite is the best!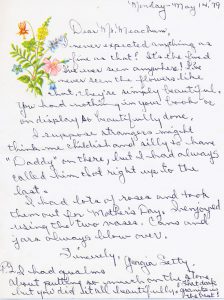 ---
Mr. Meachum,
We are very pleased with the work you did, the headstone is very pretty and we are very happy with it. Every time we go see it, it looks prettier. Its the only one like that on that cemetery and we're proud of it.
Thank You Kindly,
Mr. & Mrs. Ray Barrios
June 1, 1965
---
Dear Mr. Meachum,
I received your letter with the polaroid photograph of the already completed marker for my son, Roger. It is beautiful! Your special effort to send the photo of the marker, so carefully set out on a blanket, touched my heart with joy. I showed it to my neighbor also, and she agreed that it is beautiful […] You have fulfilled my fondest hope, and with so much other grief which has attended the loss of my son, there are no words to express the comfort your special efforts have provided me.
May God Bless and keep you and your family,
Donna Bennett
October 3, 1992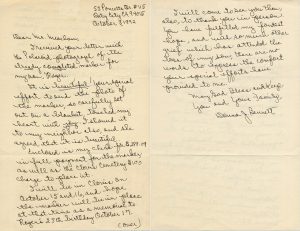 ---
To everyone at Meachum's Memorial,
I want to thank each and everyone of you at Meachum's for the respect you showed me from the time I first stepped through the door and for all the help I received picking out the stone and what to put on it. The workmanship is beautiful. I have had quite a few calls on how it turned out.
Thank you again and Merry Christmas to all.
Cheryle Roberts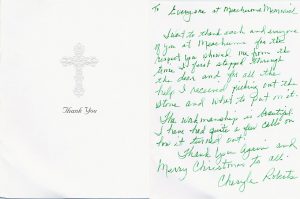 ---
Dear Sandy & Bill,
I've wanted to let you know how special you both are. You did such a wonderful job on my dear husband's headstone. The memorial is beautiful!
Thank you so much,
Nell Scholar
November 14, 2007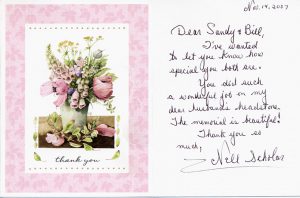 ---
Dear Sandra & Bill,
Just wanted you to know how much I loved Albert's gravestone. You did a beautiful job. I also want you to know how much I appreciate your efficiency and courtesy you extended to me.
Sincerely,
Terri Raymond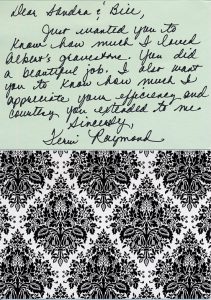 ---
Dear Bill & Sandra,
Early Saturday morning I went to the cemetery to see our monument. I am so very pleased with it. Thanks to both of you for all the work you did on the design & carving. I am sorry, Sandra, that it was necessary for you to have to redo the whole design. A perfect example of "What not to do." Thank you for your patience with me. It was the last thing in dealing with John's death and now everything is finished.
The monument is beautiful thanks to your dedication to produce an excellent product.
Sincerely,
Sylvia Shroades
April 22, 2008
p.s. Thank you also for the thoughtful flowers.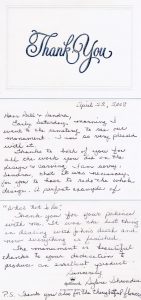 ---
Thank you for your sensitive and professional help in selecting and engraving the headstone for our mother. We appreciate your way of doing business and we will not hesitate to recommend you.
Thanks so much.
Sincerely,
Lynell Caudile & Jamal Novotny
May 16, 2002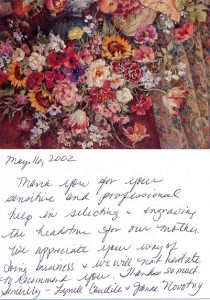 ---
Thank you for all your help in obtaining my parents headstone. It is beautiful and a fitting tribute to my parents.
Donna Flores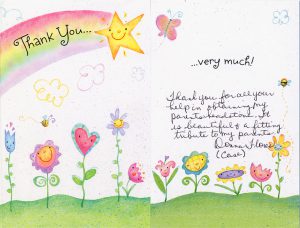 ---
Dear Norman,
I went out to Clovis Cemetery this morning and was absolutely amazed at the fabulous marker that you made for Spencer. I couldn't believe how you possibly could have reproduced the Fresno Water Tower so boldly. The same applies to the cross. I guess I expected the engraving to consist only of lines. Instead you engraved the body of the sketch; and the result is very, very graphic.
The text, too, was beautifully executed. My deepest thanks!
Kathryn Dye Kendig
December 2, 1991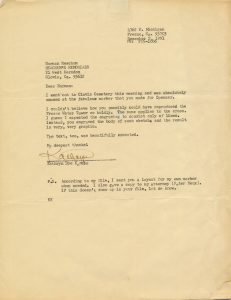 ---
Dear Sandra & Bill,
Planning and Development services staff recently informed me that the beautiful dedication plaque for Pump Station "E" was provided as a donation from your business. The creation of a granite plaque is more than the City could have justified for this project, However the unique talents that your business offers really adds a touch of elegance to this very special public place. It is truly and honor to have people and businesses like Meachum's Memorials make this type of contribution. On behalf of myself, the City Council and Clovis community, thank you.
Sincerely,
Bob Whalen, Mayor, City of Clovis
May 18, 2007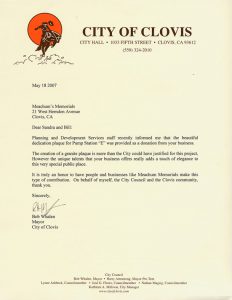 ---
Sandra,
Thank you for all of your assistance in assembling idea's for my Dad's headstone. Your personal interest and suggestions are a great service in a tough but necessary action in providing a memory of a family's loved one. I am so pleased that my Mom and I elected to have Meachum's Memorials make such a personal tribute to my Father. The personal assistance that you and your partner Bill have provided will always be highly regarded by our family! Thanks again for everything!
Sincerely,
Mark S. Cacioppo
July 3, 2007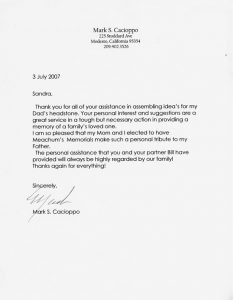 ---
Sandra, Bill, and Julie:
Thank you for the past year. We are grateful for the time and work your office dedicated into completing our Father's monument. It's beautiful and was installed before the anniversary date like we had wished for.
Meela and Leela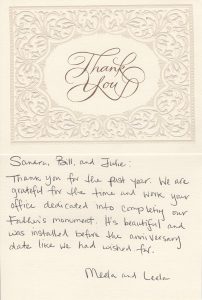 ---