Upright Monuments
Creating Upright Monuments to Remember Our Families' Loved Ones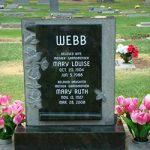 Upright monuments are a great way to mark the grave of your loved one. If you are considering upright headstones as an option, you may already know that they can be customized for either a companion or single grave, and they can also be carved with an epitaph of your choice. These are just a few of the reasons they are a popular choice at Meachum's Memorials. We serve clients in San Joaquin Valley and offer a range of options for memorializing life.
Headstone Styles & Materials
There are many different styles and materials you can select for your loved one's grave marker. Your decision should factor in durability, regulations for the burial site and the tone you intend. Some of the most popular choices include:
Gothic
Pagoda
Wing in shape
Companion monuments
Apex
Book
Cross
Heart
Oval
Upright serp
Each of these options is customizable so that you can create the perfect tribute to the deceased. We can help you select the style you want, dictate its inscription and personalize it according to your specifications.
Creating Lasting Memorials in the Madera & Fresno Areas
A headstone is a traditional option and is a wonderful way to memorialize your loved one. If you are considering  upright monuments for a grave, you can find your custom creations at Meachum's Memorials in Clovis. We also serve clients in Fresno, Chowchilla, Madera, Selma, Merced, Sanger, Kingsburg, Visalia, Atwater and Tulare. We prioritize customer care and comfort above all else, so when you visit us, you'll find both the service and selection you want. Call us at 559-299-2696 to inquire about our available options.