Laser Etched Gravestones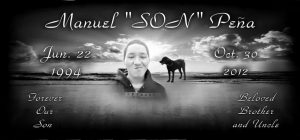 Part of the pain of losing a loved one is the loss of a unique presence and energy. Though this cannot be fully captured, it can be represented and respected with a beautiful laser etched gravestone. A laser or diamond etched gravestone gives you the opportunity to embellish customized lettering, symbols and even images. This process can be done on a flat grave marker or upright monument. Meachum's Memorials can etch a portrait or epitaph onto the surface of the grave stone for a completely customized result.
Diamond Engraving for Headstone Epitaphs
If you are considering laser or diamond etching for the grave of your loved one, you have several options available. The process is detailed & complex, but there are several ways to achieve the result you are looking for. With diamond engraving, a preplanned design is etched and transferred to the grave using a computer based program. Laser etching is also an automated and computerized process that imposes images onto a surface with lasers. Both can only be etched on to black stone, which is important to take into consideration when choosing a memorial for your loved one.
Serving Madera, Fresno & Surrounding Area
Engraved headstones are a timeless marker, but etching provides a luxurious finish to a grave. If you want a beautiful and expressive way to memorialize your loved one, you will find it at Meachum's Memorials. We offer diamond- and laser-etched gravestones as well as gravestone maintenance. We also serve Atwater, Fresno, Chowchilla, Kingsburg, Madera, Merced, Sanger, Selma, Tulare and Visalia. You can call us at 559-299-2696 for more information.