Learn How to Keep Your Gravestone Beautiful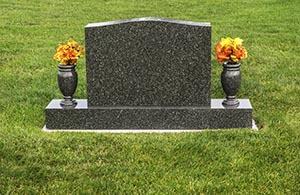 Gravestone maintenance is an often overlooked task that you should consider for your loved one's headstone. Many families invest a great deal of time, effort and money in choosing the right grave marker, so it only makes sense that you would also invest in keeping it looking great. Meachum's Memorials teaches customers about cleaning and maintenance to keep their loved ones memorials in the best condition possible. If necessary, regular maintenance to keep it clean, shiny and bright can be offered. Our specially trained maintenance personnel will treat the grave with the same level of care and respect you would for results that leave it looking pristine. Call for a quote on gravestone maintenance services in and around Clovis.
Maintaining Bronze, Granite & Marble Memorials
We offer information on maintenance that is tailored to the type and material of the headstone. Some of the materials we can provide cleaning for include:
Your loved ones can have gorgeous gravestones no matter the kind or size. With proper care, your loved one's gravesite will look its best. We prioritize customer care and quality above all else, so you don't need to worry when you entrust us.
Also Serving Madera, Fresno & Surrounding Areas
Grave maintenance is an important thing to consider. Though the burial site likely has ground keeping staff, protecting the grave stone itself is often left up to you. Meachum's Memorials makes it easy and provides gravestone maintenance services & information for your gravesite. We also offer services in Visalia, Tulare, Selma, Sanger, Merced, Madera, Kingsburg, Fresno, Chowchilla and Atwater. For more information on this and flat gravestone options, call 559-299-2696.