Our Creations Gallery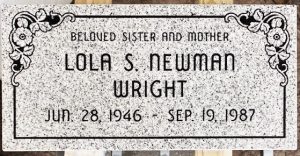 Thank you for taking your time to visit our company through our website.
At Meachum's Memorials, we know that our business's longevity and success are directly tied to our patrons and their expectations. Over these past years, we have seen our economy waiver and directly affect all that lives in it. Costs continue to rise while many incomes decline. We have taken direct steps to provide affordable memorials to the public by keeping our overhead and profit margins low.
To the right is an example of our $500.00 memorial. This memorial is of quality granite and includes lettering and complimentary artwork.
The remaining icons display some of our creations that were designed based on individuals and families directions to honor their loved ones. Factors like granite cost, where the granite comes from, and design specifics will affect your memorial cost. Our belief is that people are not just looking for the best price, but are more concerned with paying for the best value.
See More of Our Creations